Interior design has been an inspiration of mine from an exceptionally young age. While my artistic senses were still immature and underdeveloped, I felt excitement from consideration into the ways my friends and family had chosen to decorate their personal spaces; how they chose to reflect themselves through visual objects, colour palettes, and textures. Growing older, I established that this passion was in fact in the realm of interior spatial design, which I found was an artistic industry I would seek to gain access to today. Now, I intend to delve deep into the world of interior design – I seek to know everything, from each historical era between countries, to current contemporary artists. I want to explore how each of these overlap and create new combinations, how designers take aspects of various eras and countries and merge them into one successful situation. Currently, I feel that I lack extensive knowledge regarding my specialism, which is something I immediately desire to change. I will explore contemporary, Eastern and historical designers, past, present and future trends, all the while submersing myself in my passion and pursued specialism.
My general knowledge into design stands prominently with Antoni Gaudi. We all know who he is and what his architecture looks like, however, I view it from a perhaps alternative perspective. Although my most dominant passion bears with interiors, I believe architecture and interior design stand hand in hand – one cannot exist without the other. This being said, interior design would not be what it is today without Antoni Gaudi. I believe he has inspired almost everyone who has viewed his work since his time, largely including myself. Gaudi's work reflects and combines nature and modernism in an architectural formation, providing a representation of Art Nouveau and being part of the Modernist movement. Although the inspiration of nature had been hinted at throughout design history, such as the delicate intricacies of the Greek era (1200 – 31BC) and, particularly, within Rococo Style (1700's) which was flower based with the inclusion of animal patterns such as tortoise shell, it had not been extensively explored until Gaudi in the late 1800's, during the Art Nouveau movement. This being said, he was potentially the first architect to extend design capabilities to include extravagances within both nature and modernism, setting high expectations for us following. This enormously inspires me to be as he was – someone who was not afraid to stand out amongst the rest to create something wholly beautiful.
Contemporary design reflects a combination of many past trends, bringing old historic details into new spaces, putting a current creative twist; giving them life again. In my opinion, contemporary interior design almost fails to express anything entirely new, rather, it echoes an evergoing trend cycle initiating from when humans began decorating their living spaces. Past trends are constantly being renewed – blended with others, recycled, so to speak; but ultimately, they are a collection of updated previous ideas, with the inclusion of elements from other countries, which themselves are not entirely new. Kelly Wearstler said, 'I experience my interiors as a sculpture', which is something I totally relate to. Sculptures are malleable and can be easily manipulated and changed, at any given time – the same applies to interiors. Interior spaces can be altered and redesigned, given new life whenever suits the designer. Meanwhile, the trend cycle constantly holds traditions, with the occasional inclusion of something unique and unheard of. An example of this is designer French designer, Phillippe Starck, widely known for his famous lemon squeezer. He constantly incorporates new and exciting elements into pre-existing trends. He combines the simple with the inventive. Starck explores a range of areas in industry, from furniture and interiors, to electronics. He was plummeted into fame in 1982 after his interior design for former French president, Francois Mitterrand's apartment. His most recognised designs range from his Louis Ghost chair, to his Bubble Club sofa and armchair, as well as his La Boheme stool.
Upon researching his work, I have found his most recognised interiors are The Peninsula, Hong Kong, and Cafe Costes, Paris. In my opinion, he creates a perfect combination of fun, childlike and modern, featured in an adult world; an adult situation. Paradis du Fruit is an elegant French restaurant, reflecting modern taste through beautiful, simple furniture choices combined with fun, interesting elements. In this design, there is a fun merger of modern furniture with creative imagery of juicy fruits. Each little detail contributes to the greater picture. The ceiling lamp is extraordinary – it is arranged as a cornucopia of gathered fruits, echoing the images featured on the walls. When blended with big mirrors, silver objects and shiny poles, the strange image is complete. One of my most favourite features in the design are the selection of monotone images of different children pulling faces – making fun facial expressions – while underneath, sit three large silver apples with an arrow shot through each. To me, this is an alternative detail, yet it successfully enhances the childlike emotive, reminding us to stay fun and silly in this adult world we have all grown into. In addition to this, a particularly strange, bright tartan runs through the restaurant, finding itself on the columns and chairs, as well as smaller details such as various cushions. In a wood, walled space, it is no surprise Starck chose to include a brightly coloured tartan, yet it stands out in such a strange way but actually works with the outgoing vibe the space possesses. I believe it even moreso enhances the childlike emotive already portrayed. When viewing images of the space, I notice the expression of enlarged, airy space through an extensive use of large mirrors and reflective surfaces, such as within the columns. These work to extend the space into other dimensions, to me, it gives the impression of being imaginatively transitioned, perhaps like a portal, into a new, fun world.
Mama Shelter Hotel in Marseille, is another French project of Starck's. Here, he turned a hotel into a great place. Again, he prominently used simple furniture to create a simple atmosphere, yet the details are an unexpected combination of things which provide life and excitement. He chose to use basic wood tables, and positioned these with otherwise mundane plastic chairs. He then hung large, industrial lights above, bringing the outdoors in with the inclusion of picnic benches. On the walls are written messages and sketches of drawings that inflict passion and perhaps a motivation for creation. The bar is beyond joyful and is prominently my favourite part of the design. Otherwise a simple bar, this one is illuminated with vividly coloured neon lights, while hung on a rail above is a colourful collection of a child's life buoys. This random feature gives an alternative effect which also mimics the childlike emotive expressed through his work previously mentioned. The black, matte ceiling offers a heavily closed in, darkened feel, that is balanced by use of cosy wood on the walls that mimic those from holiday cabins. Overall, this design, contrary to my words prior, offers something entirely new. Although there is vast use of historically popular trends, Starck's overruling inclusion of childish affairs brings a new element into contemporary design – something of which I adore. I believe his use of the childlike with the modern portrays a potential new way of life – to live childishly in this adult world, to have fun, to express yourself freely.
Marcel Wanders is a contemporary Dutch designer, whose work may be my favourite I have seen. He himself stated that he seeks to 'create an environment of love, live with passion, and make our most exciting dreams come true'. This quote itself inspires me – if he aims to make the impossible possible, by way of making absurd dreams real, why, as a designer, shouldn't I? The design that stands out the most to me is Oh! in Amsterdam. This design is overwhelmingly green, by way of colour inclusion and also energy efficiency. Creating 'green' energy efficient homes is a recent trend that many designers are experimenting with. This green hotel was inspired by local flora and fauna botanicals, Wanders wanted nature to be 'recurring, yet unexpected'. From this, he created curtains of hanging plants, overgrowing structures, a green oasis with secret gardens. The elements that define the project were fire, air and earth. Fire is represented through the mixed and matched patterns, creating contrasting surfaces which intend to spark passion. Air is represented through soft, light colours and surfaces, amongst the inclusion of prominent, focused natural light. Finally, earth is conveyed through use of warm colours and natural materials such as wood, mosaics and stone. A secondary concept for the project was for it to foster a sense of community, which I believe it achieves substantially. I love this design because I respect how economically friendly it is. I love the vast inclusion of nature which both mimics and vastly extends some ideas Antoni Gaudi explored.
Born in Egypt, Karim Rashid explores interiors, fashion, furniture, lighting and installations. My favourite of his works is his Oaza Zdravlja pharmacy design in Serbia, where he turned an otherwise ordinary pharmacy into something beautiful. Half walls, existing walls and various other features such as the large central pill or bean shape, are all created out of round shapes in a lime green tinted transparent plastic. I love the pill/bean feature for its symbolisation – if intended to be a pill it reflects the purpose of the space, while if it is intended to be a bean, it enhances the connotations of green; life and health which are mimicked throughout the design. The use of transparent plastic is an innovative use of a normal material that I have not seen expressed so passionately before, particularly in Western designs. The combination of lime green and white seen throughout the entire pharmacy symbolises healing and a healthy life, as stated prior, which is particularly fitting for a pharmacy. The lighting on the ceiling is an interesting element as is stands to depict human DNA structure, allowing the space to speak of modernism and to reflect its overall function – healing the human body. I love this design because it conveys hope, life and trust from the colours and sculptures the designer has chosen to use which works in unison with the function of the building.
Karim Rashid's Smart-Ologic Corian Living project was created for Milan design week in 2010. Similarly to the previous project, this one also speaks of modernism, colour and style. This design is my ultimate favourite Eastern design. It uses almost melting walls and include the same transparent plastic panels seen in the previous design. The difference being that there are nearly no right angles in this design, which immediately contrasts to the Western designs discussed prior – everything is fluid and rounded off. The whole space is brightly coloured with a combination of luminous and pale pastel colours, blended softly with ease and simplicity. Yet there is nothing simple about the design other than a lack of clutter. Although emitting a sense of minimalism, the shapes of the furniture, the object, and even the walls, speak differently. Each rounded shape mimics a combination of overlaying circles used to create the shape outline. There is no direct or harsh light as the light is hidden in lower part of the walls, facing upwards, or deflected behind more circular features on the ceiling. This portrays a calming effect that works with the round shapes. In addition to this creative use of otherwise usual features, other normal objects have been stylised and turned into pieces of art that integrate each other, such as rounded carvings in the plastic walls hold flower pots, as well as dormant bicycles. The overall contemporary design of the space is what intrigues me most – nothing is a usual shape which appears vastly futuristic and unique in comparison to Western design. It is almost like designers in the East are one step ahead of us, creating something organic, real and new ahead of time.
It fascinates me that, since the dawn of humanity, we have maintained the desire to decorate our personal living spaces past the point of practicality. As cavemen, existing in the stone age, between 6000 and 2000BC, we sought to decorate our stone walls with drawings created from mud, while forming an extension of rugs out of animal skins. Although small, these decorative elements represent our ultimate desire to design our living spaces – for them to be interesting and creative, to reflect the person living in them. Interestingly, construction regulations only began in 1200 and 31BC during the Greek era. This was also when interior design became more prominent in civilian's lives, as prior to this, during Egyptian and Neolithic Europe eras, it was the royals who had extensively decorated living spaces, while civilians minorly decorated by incorporating simple elements. Although humans have been mildly decorating since the beginning of their existence, according to Greek mythology initiating in 900BC, Vishvakaraman was the 'God of Creation', the 'Principle Architect of the Universe', and the leader of engineers, artisans and architects. This indicates that Vishvakaraman commenced interior and architectural design that grew to be as we know it today. Following this, only in the 1600's did architects also work as interior designers, while in the 1700's was interior design brought to the middle classes through successful education (at this time, the lower classes still lived practically with minor, home made decoration). It was mass production in the 1800's industrialisation that enabled people to focus on the function of their home around style and design, rather than simply only functionality. Interior design as a whole had not been widely available or even desired to a full conscious extent by everyone up until the 1950's. The 1950s brought popular television, whereby access to various interior trends was commonly expressed and thus developed a large desire for unique interior design in personal homes. It was noticed and sought out by more people. This extended further in the 1990's were a great portion of television shows in regards to the subject took interior design to ultimate heights. Although interior design has always been around us, it was not noticed as interior design until more recently than other industries.
Elsie de Wolfe, born in 1865 in New York, is described as America's first interior decorator. She is known to have dressed herself in the 'same free-spirit and rebellion that she approached interiors'. She was presented with an opportunity to practice her new aesthetic of 'light, air and comfort' upon moving into her first house. This was were she replaced dark wood and patterned wallpaper with plain walls painted in pale neutrals. She removed the velvet curtains, eliminated most carpets and replaced heavy furniture with delicate designs. She arguably rebelled Victorian interior tradition of clutter and heavy pattern. It was doing this that she found her appreciation of her own requirements for living well and an assumption that her taste should be universal – she said 'the chaise-longue, or couch, as the case may be, should be both comfortable and beautiful. Who hasn't longed for a comfortable place to snatch forty winks at midday?'. This quote, to me, establishes her self-approval, amongst her assumption that her interior style should be shared by everyone. I love this about her. She also famously said 'be pretty if you can, be witty if you must, but be gracious if it kills you', which I think depicts the kind of designer she was, regardless of the point of the quote surrounding personality. I believe this woman was the type of women who had her standards and stuck to them. In terms of interior design, this worked because she inflicted her personal senses onto each of her works. I like this because she knew what she wanted, she knew what she wanted to achieve, and she made it happened. She is known for her 'Victorian decorating approach' by decluttering and simplifying, re-warming gloomy, too-busy interiors. She added her touch onto everything. She differs from Western and Eastern artists heavily. Where she declutters and simplifies, previous artists mentioned add elements, details, convey drama. Arguably, de Wolfe conveys drama in the sense of spacial awareness and overall beauty, however, the previous artists convey drama in a way to impact and really wow the receiver, to offer something astoundingly new.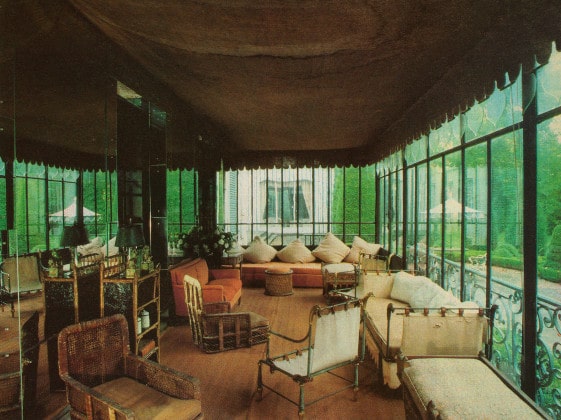 From my studies into the depths of interior design across history and various countries, I see interior design taking an alternative turn in twenty years time. I believe us, as designers, will maintain our favourite traditions, while incorporating new and exciting elements. I think the focus will be on mood and perception, more technology will be included to reflect the rise in technology over the past few decades. Sleek and modern. If I consider the rise in housing buildings, being smaller but greater in capacity, people may delve back into simplicity, knowing they will perhaps be living in smaller apartments, they may wish to, as in the past, limit clutter. On the other hand, grand buildings will express even more extravagance, reflecting innovative designers and their ideas. From my research, I have gained much knowledge into my preferred specialism. Although I feel there is always more to know, I feel satisfied by the new insight I have gained into interior design. I believe my personal design capabilities will be extended from this research. Now I am aware of how many designers have pushed the boat out extensively, I know that to be majorly successful, I need to do the same. I now know I need to broaden my imagination and put forward my ideas in an extraordinary way, just as they did. Research into the history of interior design has shown me the importance of interior design. Often, this industry is overlooked, many people believe interior design surrounds choosing fabrics and wallpapers, yet it is so much more than that. Since the dawn of our species we have been decorating our living spaces, which shows interior design is a profession within a simple human desire.